Made

In The

USA!

and Ships Between 1-3 Days!
Personalized Emergency Pet Keychain Generator
Design and order your own personalized Keychains!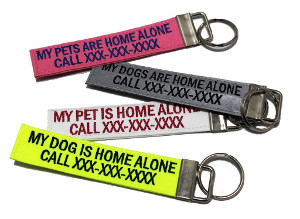 FOR YOUR PETS' PROTECTION & SAFETY! If you are in a situation where you are hurt and can't speak, this keychain provides the phone number of the person you've chosen to care for your pets in case of an emergency. This keycha
My Keychain Preview
Please note that this image is for demonstrative purposes only and the colors may not match 100%.